Helping the People of New Orleans, Louisana
Dr. Thompson traveled to New Orleans, Louisiana to help with the construction of the Musicians' Village and the upper ninth Ward. They joined other eye care professionals from the American Academy of Ophthalmolgoy to help Musicians Harry Connick Jr. and Branford Marsalis, Habitat for Humanity International, and the New Orleans area Habitat for Humanity to create the village for musicians who lost their homes to hurricane Katrina.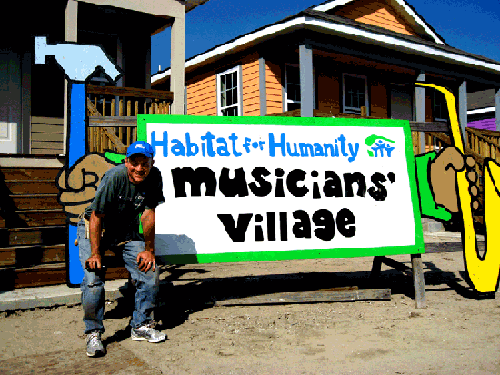 Construction began on June 6, 2006. The homes are purchased by the owners for an average of $75,000 and 350 hours of "sweat equity" in the form of labor on the construction of their home and other Habitat homes. Habitat is an equal opportunity housing organization. Non-musicians will also live in the village. Musicians are given no priority for housing over any other applicant. Musicians who lived in New Orleans prior to Hurricane Katrina in need of safe, affordable housing are encouraged to apply for the program.
The selection process is based on the need for shelter, ability to meet the mortgage payment, and willingness to partner in the construction. Each homeowner is responsible for paying an interest-free mortgage, normally for 20 years. Volunteer support and donations allow the housing to be sold at an affordable price. The average mortgage payment is about $550 a month. Homeowner families also contribute 350 hours of "sweat equity" in the form of labor on the construction of their homes and other Habitat homes. Before Hurricane Katrina, a duplex in the same neighborhood rented for about $700 to $800 a month. Now, with so much of the housing damaged or demolished, the rent is closer to $1,000 a month.
When complete, the Musicians Village will consist of 72 single-family, 1,100 square foot, Habitat-constructed homes for displaced New Orleans musicians and other qualifying Habitat partner families. Its centerpiece will be the Ellis Marsalis Center for Music, dedicated to the education and development of homeowners and others who will live nearby.
The project will be featured in January on This Old House on PBS (shows #2717-2721).
Interested in learning more, visit
New Orleans Habitat for Humanity