Diabetes and Your Eyes
For some individuals, diabetes mellitus can cause loss of vision and even blindness. However, studies performed in the United States and the United Kingdom have shown that very good control of blood sugar can slow the development of complications due to diabetes. Individuals with newly diagnosed diabetes are also at increased risk for developing glaucoma, a disease that can lead to permanent loss of peripheral vision.
Complications due to diabetes often are attributable to the closure of small blood vessels in the body that occurs slowly over time. In the eye, closure of small blood vessels leads cells to release chemicals to stimulate the growth of new blood vessels. Unfortunately, these blood vessels are fragile. They grow in a way that predisposes them to break and bleed; to leak; and in severe cases to detach the retina. Below is a photo of the retina an eye with severe fibrovascular proliferation due to diabetes.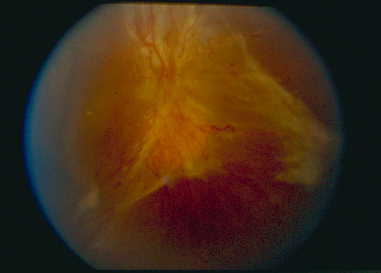 Fortunately, early detection and treatment of diabetic eye disease can reduce the risk of vision loss.
If you have diabetes, you can help reduce your risk of vision loss by working with your primary care doctor or an endocrinologist to achieve very good control of your blood sugar and by having an annual eye examination. An annual eye examination helps catch diabetic eye disease early before significant permanent damage occurs. If you have diabetes, you should have at least one dilated eye examination by an ophthalmologist each year.
Dr. Thompson will send a note to your primary care doctor, if you would like, to let your doctor know how you are doing. Vascular changes in the eye may indicate that there are changes occuring elsewhere in the body.
To learn more about diabetes and your eyes, click here to visit the National Eye Institute website.