Dr. Matthew Callewaert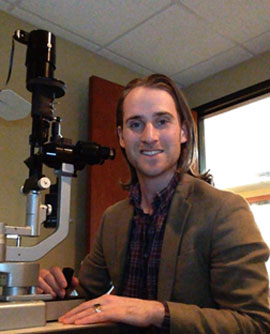 Matthew Callewaert O.D. is a NBEO board certified optometrist who joined our practice in 2014. Dr. Cal provides thorough eye examinations, and believes that providing an individual comprehensive eyecare includes connecting and investing with them on a personal level. He finds his career rewarding because it allows him the opportunity to meet and interact with new people every day, and because his work allows him to provide an individual clear vision with which to see the world.
Dr. Cal offers services including comprehensive eye health and refractive exams, contact lens fitting and assessment, management of ocular disease, pre and postoperative care, and pediatric care.
A Kansas native, Dr. Callewaert completed his undergraduate degree at Wichita State University. He then went on to graduate with honors from Southern College of Optometry. After practicing in the Seattle area for a year, Dr. Cal relocated to Kansas City. When not practicing optometry Dr. Cal enjoys listening to and playing music, fly-fishing, and walking his dog Henry. His best days are spent doing any of the above activities with his wife, Kelly. Dr. Cal has appointments available Monday through Friday, from 8:00am-4:30pm. Call to make an appointment today!